*WARNING* these could be considered "graphic', especially if you have a dirty mind like mine.
Almost every week, sometimes twice a week. My friends and I go to breakfast at the cutest little cafe here in town. They have all sorts of mismatched decorations on the walls. The staff is great, and the food is even better!
One time my friend and I went and we got these coffee cups that looked a little..ummm.. naughty, shall we say? At first, we thought it was just our dirty minds at work. But as we looked more closely, there was NO way these cups were accidentally made this way. I mean, just LOOK at them! Look at the positions the animals are in!
Here is "The Elephant" cup, we lovingly refer to. Please tell, me it isn't just us!
There is also "The Bear" cup. This one cracks us up! Ummm..yeah..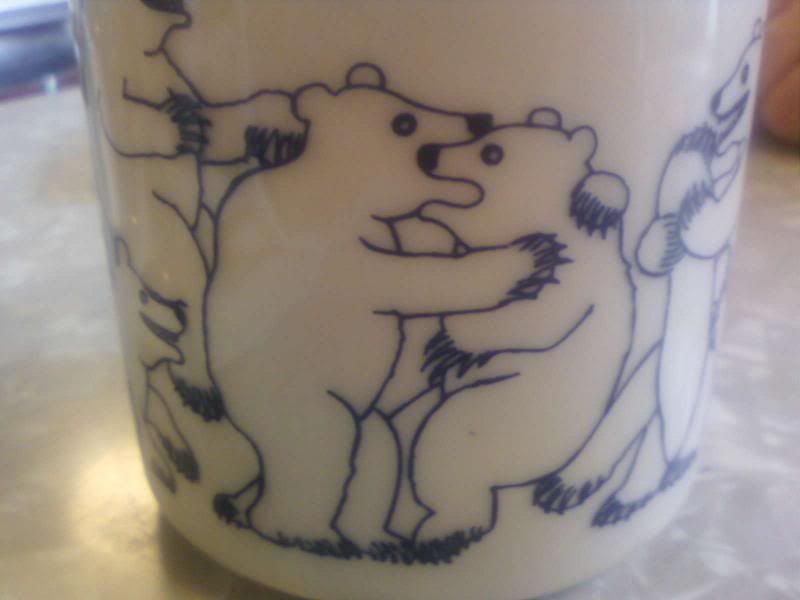 There are three in all. The third one are rabbits. I don't know where the picture is of that one, I know I took it, but I think my computer ate it. Every time we go in there, we ask for these cups, because we're really mature like that.
We finally asked the waitress about them the last time we went, and she said someone found them at Goodwill and bought them for the restaurant. She also told us that we weren't the only ones to notice the sexual reference in the mugs. Apparently it's a running joke at the cafe.
I'm going to have to Google them and see if there's a line of them. If there is, we HAVE to buy them for the cafe. Those three cups could be so lonely without the rest of their posse.
Go check out and see what
everyone else
is bringing to class. I'm sure you won't find any more coffee cup "fun", which, I'm sure is a good thing!



ETA: I don't k now why my pictures are SO huge! I re sized them and for some reason, photobucket isn't recognizing the size change. I'll work on it; for the time being, SORRY!