I WAS going to put "porn" in the title, but I thought better of it. Although, that would have been A LOT of fun, don't ya think?

A few weeks a go, a couple friends of mine found a sushi restaurant not to far from our little town. Since I wasn't able to go that time, we made a date to go this week. I was so excited! I haven't had sushi in a long time.

I had no idea what to order, so I stood at the counter looking like a complete idiot while my friend ordered for me. He ordered 3 dishes for us. Two weren't spicy and the other had "volcano" in the title. So, I

knew

this one was going to be good! I sat at the table waiting and drinking my green tea and waiting some more. When the waiter came and gave us our little dishes of wasabi and soy sauce, I was thinking I may have over stepped my "spicy food" boundaries.

My friend tells me how to mix the two and then dip in my sushi roll. I look at what he's doing, look at my little bowl and just sat there. He mixed ALL of the wasabi into the soy sauce! I've never had wasabi before, but I had heard A LOT of horror stories about it. When I was done freaking out, I mix mine, but totally chickened out a mixed a tiny bit amount of the wasabi. I tested it and it wasn't hot at all. So, I kept adding more and mixing and then tasting. This went on for about 5 minutes. I ended up mixing all of it together and it wasn't hardley even spicy. I have no idea what they did to the wasabi, but it was BARLEY hot at all. It might be my taste buds. I think they have callouses on them from all the spicy foods I ate growing up and eat every day.

After I get my mix just right our food came. Oh it was so beautiful! I almost didn't want to eat it because it was so beautifully prepared. Here are two of our three dishes. The red one is the volcano and the other one has avacado on top of it. Oh so yummy!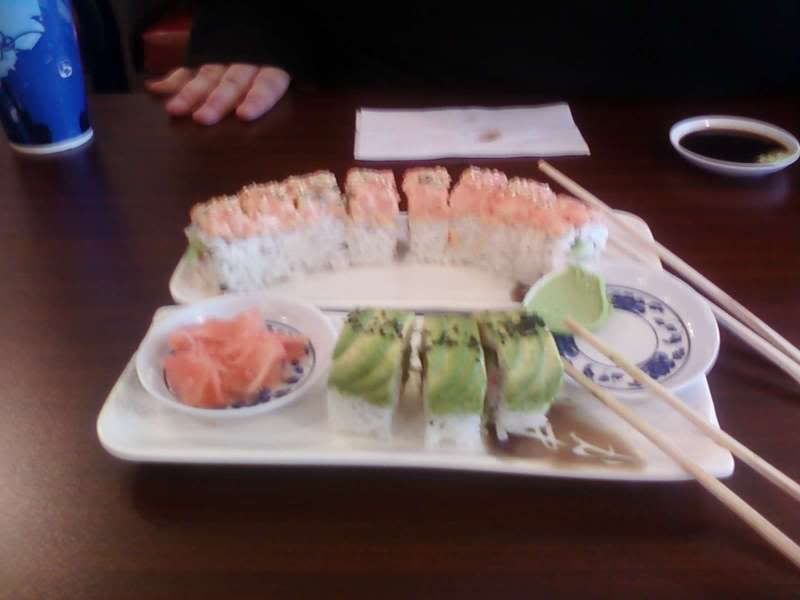 Aren't they so beautiful?

After I took the picture I grabbed my chop sticks and dug in. Ummm I have no idea what happened to my chop stick skills, but they have left my body! I could not grab the roll, dip it, AND make it into my mouth without the roll falling apart and making a huge mess. After attempting to eat with the chop sticks a few times, I gave up and used my fingers. I assumed, since my friend was buying lunch, he would rather the food make it into my mouth and not all over the table. Good thing the lunch crowd was gone already, because I was not only embaressing myself, but my friend as well. Opps, sorry Kev ;o)

Here's a picture of me going rogue and eating my sushi with my fingers, like a rude person.


***

I can NOT wait to go back again. It was so delicious! I've been telling everyone about it all week long. I might even make my husband take me there for lunch this week. He hasn't had sushi in a long time, too. Although, I doubt it'll hold a candle to the sushi he had in Japan, but it IS good!

Go on over to Mel's blog and see what everyone else is showing.

*** I'm not even going to apologize for the horrible picture, it could be SO much worse.