Two weeks Alicia posted an entry about Paying it forward. I wanted to participate in it. It sounded like a fun thing to do. PLUS you have a whole year to send something to others. This is PERFECT for me. I am such a forgetful person. I use to not be this way, now I am. Anyway, I left her a comment on her blog and now I'm to pass it on. Here are the rules:


2 wonderful readers will be randomly selected from those who leave a comment on this post, to receive a handmade gift from me within the next 365 days!!!! I think I can stick to this goal. The catch..... you must also be willing to do the same (so you have to have some kinda crafty skill you can share with the world, but really everyone has one of these, a homemade batch of cookies, a card, knitting whatever) and you have to have your own blog to be able to spread this pay it forward love. Get it, get it? Good!


I've admitted to the fact that I am NOT a crafty person. I've done ONE scrapbook, that didn't turn out TOO horrible, but I'm pretty sure I can't make a living at it. I've been taught how to crochet a few times, and I've never quite gotten the hang of it. I can't knit, I've never learned. I doubt that if I was taught, I would be very good at it. I've cross stitched before, but once again, it wasn't beautiful. What I can do, is bake. I can bake cookies, pies, cakes, brownies, and such. I have a few fancy cookbooks that have some awesome recipes in them. I can't promise whatever I bake will be the best thing you've ever eaten in your life, but I can promise you that you won't get food poisoning.
I even have 2 recipes for doggie treats, so if you have a doggie that wouldn't mind getting a treat, I can toss that in, too. So, if you would like to join in the fun, you can email me and let me know. Make sure you put your address in the email, so I can send you your goodies. My email is on my profile.
OK, now on the the other thing I neglected all week....
Kristin over at Dragondreamer's Lair gave me an award! WOOO!!!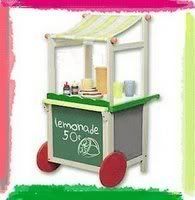 This award made me smile and get all girly and mushy. I'm always the one who's turning something bad into something positive. My friends have wanted to shove my face in the mud many times, with my rainbows and sunshine, but without it, they would all be so gloomy. I always, well try, to look at the silver lining. For me, it's the only way I can make it through the reality of what life throws at us.
Here are the rules for The Lemonade Stand Award:
1. You must link back to the person you received the award from.
2. You have to nominate 10 bloggers who are deserving of this award
!
Thank you Kristin for giving me this, I appreciate it and I appreciate you and your thoughtfulness. You're AMAZING!

Now I'm to name 10 bloggers who deserve this award. Just 10?! Sheesh..this might prove to be a bit difficult.
The Muser (AKA Beautiful Mama) over at Musings Musings Musings, Andy over at Today's the day, Sue
ssgirl over at One Day Two day, Jill over at Maybe it's just me, Liv at The Life of Liv, Stephanie at Loving Thee and more, Celia at Breeder Beware, Bec at Crazy Lady Ramblings, Homeywine, because life is life is better with sweetness, and last but NOT least, Dora at ISO the Golden Egg.

WHEW that was tough...hope everyone had a great weekend!