Becky over at Mommy Wants Vodka got an email from
k@lakly over at
this is not what I had planned.
K@laky took her son, Carson in for his 4 month check up and immunizations. He got his diphtheria/tetanus/(and)pertussis,
Haemophilus influenzae
type b, polio, and prevnar shots. Yesterday, he also ended up in anaphylaxis and stopped breathing. His momma (thank GOD) got him to the hospital in time and he's stable now (thank GOD).
The doctors have no idea why this happened or what is going on. So if ANYONE has heard about this, please go over to Becky's
page
or k@laky's
page
and pass along the info.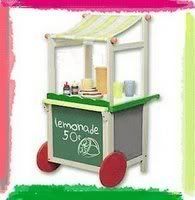 A Mom in Jacksonville, FL over at
Alana-isms
gave me an award! She really did! I promise I didn't steal it from her running away yelling "mine ALL mine" all the while laughing an evil laugh. She gave me the Lemonade Award. How cool is THAT?! This Lemonade Award is given to bloggers in recognition of "great attitude or gratitude."Awww she thinks I have a great attitude! I do try. I can't help it, I'm such a Polly Anna and "rainbows and sunshine, bitches" type of girl.
I've seen this award on almost all of the blogs I read. I'll do my best to pass it on to someone who hasn't gotten it, yet.
Here's what to do:
1. Put the Lemonade Award logo on your blog or post
2. Nominate blogs that show great attitude or gratitude
3. Link to your nominees within your post
4. Let the nominees know that they have received this award by commenting on their blog
5. Share the love and link to the person from whom you received your award.
I'm going to give this award to Jenn over at
The Infertile Sushi Loving Princess
. She's been doing her best not to let things get her down. She's been making lists of things to be thankful and not concentrate on the negative in her life. I know that feeling and it totally sucks. She's doing an AMAZING job and hopefully this award will give her that little boost. Jenn, you rock and you're doing a GREAT job!
This one is different. It started off as a double dog dare from
Liv
to
Eve
. Those two girls are CRAZY FUNNY! Apparently Eve didn't realize her blog needed a
warning label
on it. If you haven't read it, go NOW! But, don't drink ANYTHING unless you want to buy a new keyboard. Liv made a cute graphic for Eve to put on her blog and even DOUBLE dog dared her, but Eve didn't take her up on the offer, until the other day. She realized that Liv may have a point. So, Eve put the warning label on her blog and also made an award in honor of Liv. Seriously, the love fest going on with those two is making me all girly and mushy inside. But, ladies if you two make me cry, I won't be a very happy blogger and I WILL blame it ALL on you. Just so you know...
Here's the run down of the award:
"So this one's for you, Liv. Your own award (I didn't misspell that first word, it's named after you!). For someone who is so sweet, thoughtful, funny, honest, and such a gem to find on this rocky walk of infertility. You are my kindred spirit and I'm so very glad I've gotten to meet you, if only through a computer.
I wish for you that this painful journey of infertility ends soon…but promise to be there for you if it doesn't. I'll also promise you this: you WILL be a momma someday, some-way. Believe it. I believe it with all my heart that you will.
Big hugs to you!
So in honor of Liv, first of all, I'm hoping you'll all pop in on her bloghouse and give her some bloglove (especially if you feel the same way I do about her). But I'm passing this award out differently. I cherish each of you who read these words of mine, I really do. And your comments make my heart smile with gratitude.
Here's the challenge: take the "Liv, Laugh, Love" award and give it to ONE special person. Take the time on your blog to acknowledge what they've done for you emotionally or spiritually. Devote the whole post to them. Even if you don't have a blog, feel free to copy this icon and e-mail it to a good IFer friend. I know many of you who read me don't blog, but are connected to the IF community nonetheless.
I know this is a smaller scale type of award, but I kind of like small-scale. It feels right to me.
Bless you all!"
How awesome is THAT?! There are SO many ladies I want to give this award too. I can't just give it to ONE.
There have been so many ladies who have helped me through some really difficult times in my life. From pulling me out of the black pit of pain when I was coming to the realization that my mom is dead and not coming back to finding the courage to talk to my dad about "Uncle Douche Bag" thank you
Heather
for that term, it's PERFECT! Here's what I'm going to do. I'm going to give this award to one gal and then I'm going to continue to give it to gals I think deserve it. I'm a rule breaker, what can I say? I doubt Liv OR Eve is going to mind me giving this beautiful award to more then one gal.
Heather
,
I'm giving this ward to you for many reasons. From the time we first "met" I've laughed and cried because of our emails. Although, I do HATE crying, I won't get mad at you for it. Apparently my body needed it. I'm so lucky to have "met" you and I don't know what I would do without you in my life.
You're a beautiful, amazing, caring, and selfless woman. You're a great mom and a great friend. Your support in this community is undying and I don't know what we would do without you.
Thank you for being YOU!
Love ya, girl!